STATEMENT
Megan Moriarty is an interdisciplinary visual artist exploring the interconnections of science, spirituality, and memory. Guided by a fascination with ancient and contemporary interpretations of spirituality, her work weaves together the sacred and the secular. Her early sculptural investigations in the 2015 exhibition Lithic took the form of mixed-media boulders etched with ambiguous lines reminiscent of Neolithic stone carvings. Channelling natural symbolism again in 2017, the series New Totems employs abstracted bronze figures playing out the life-cycle of a seed. In an on-going body of work classified as Illuminations, archaic projectors are used to magnify small paintings on glass and challenge the archival and evidentiary processes of memory. The large and colorful images projected in the 2018 installation Inner Landscape reference early twentieth century scientific micro-photography and Theosophy's goal of visualising emotions. Mixing traditional mediums with new media, Moriarty's work merges science, nature, and art to create a spiritual experience for a secular viewer.
Moriarty has an Associate of Science Degree in Cinema Production from Minneapolis Community and Technical College, a Bachelor of Fine Arts in Studio Art (Sculpture) and a Master of Arts in Studio Art (Sculpture) from Minnesota State University Mankato. She is currently an Master of Fine Arts Candidate in Spatial Art at San Jose State University.
Process
Moriarty's dynamic studio practice intermingles conventional drawing and casting with digital technologies and projection.
Small paintings are created using recycled glass slides and High Flow acrylic paint.
The cut designs are layered and cast in polyurethane rubber.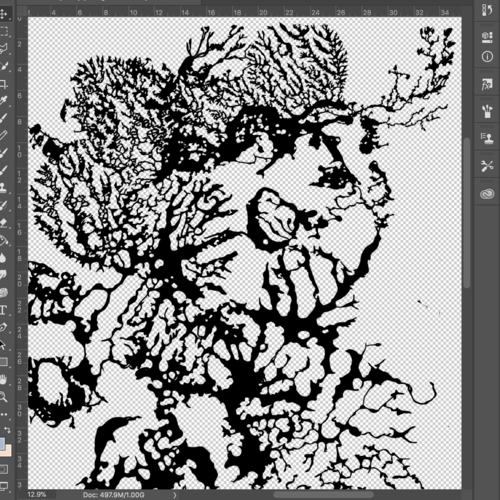 Pattern designs for sculptures are first drawn digitally.
From the rubber mold, a copy of the design can be produced in wax. The wax is them invested and cast in either glass or metal.
The designs are then cut on a laser cutter. Some of the cuts are kept as-is, while others are used for moldmaking.
The objects and slides produced are then illuminated and magnified using outdated projection systems.
Instagram
Follow what is in the works on Megan Moriarty's Instagram as she avidly documents her studio practice.